Azerbaijan doesn't exist without Shusha,
Agdam or generally Garabakh.
Heydar Aliyev, National leader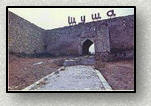 The music written and sung by Master Khan Shushinsky makes a deep impression on everybody. The reason is black clouds over Shusha, founded by Panaheli Khan Javanshir. Shusha was occupied by Armenian invaders on May 8, 1992.
Tens of historical monuments were seized in Shusha, which considered the residence of music as: The palace of Panaheli Khan, The Juma Mosque, Lower Govhar Aga mosque, the house of Khurshudbanu Natavan, the tomb of Molla Penah Vagif. Even the monuments of personalities as U.Hajibeyov, Bulbul, Natavan were shot by the enemies.
But everybody believes that, in the near future the black clouds over Shusha will be disappeared, Shusha will liberate and refuges will return to their motherland. So, "Garabagh shikestesi" will be sounded in Shusha again…
Shusha is the most picturesque of Garabagh. Every visitor was amazed by the beauty of this city, which was victim of many historical events. Shusha was not only place as paradise, but also a military strategic castle.
Shusha is situated 1400-1500 metres above sea –level. There are a lot of mineral springs and deposits of building materials. Amazing

building of Shusha was founded by Panaheli Khan. He was announced as a Khan after death of Nadir Shah in 1747 and the he decided immediately to build strong castle with the purpose to defend Garabagh from the enemy attack. New castle was founded in a high plateau surrounded by mountains from three sides in 1750. Panaheli khan had new buildings and his own palace built inside of fence. Local population called the new city "Panahabad" in the honor of Panah Shah. For the first time Panahabad recalled "Shishe" then "Shusha".
After the death of Panaheli Khan crafty and skilful statesman Ibrahim Khalil Khan became the Khan of Garabagh. During his authority Garabagh improved and developed. Panaheli Khan and Ibrahim Khalil Khan restored Shusha in high level on the basis of ancient and Middle Ages city building examples. The city was divided to 17 districts. They still exist at the moment. Generally, the formation of Shusha as a city was in 3 stages: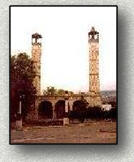 The first stage continued until 1763 irregularly. In this period there were built 9 districts in the east part of the city by name "Chuxur". But the quality of construction was grater in the second stage during the authority of Ibrahim Khalil Khan. In this period the number of districts became 17. In the third stage there were built 12 districts in the highland part of the city and the formation of Shusha was over.
The west part of Shusha was situated 1800 metres above sea-level, but the east part was 1400 metres. South of the city was relatively high and horizontal flat. This place was called "Cidir duzu". The area of Shusha was 350 Ha. There was only one motor transport in Shusha. This transport leads to the centre of the city. The mountain which was situated in the east of the city was called "Dotalab". Aga Mehemmed Shah Gacar attacked to Garabagh in 1795 after seizing power in İran. Although Shusha was in encirclement for 33 days, he couldn't make progress and plundered Tiflis.
In 1797 Aga Mehemmed Shah Gacar attacked to Shusha for the second time. Shusha surrendered during short encirclement because of noblemen's betrayal.
Authority of Aga Mehemmed Shah Gacar continued just one day. Gacar was assassinated by his employee. Ibrahim Khalil khan came back to Shusha and sent the corpse of Gacar to Iran grandiloquently with the purpose of getting well with Iran.
Ibrahim Khalil Khan`s daughter married with Fatali Khan. Shusha kept its position as a capital during Russian occupation. But it was useful for Russia and they found great solution for making weaker Garabagh. They began to remove homeless and beggar Armenians. On May 4, 1805 the contract of Kurakchay was signed. Then there were signed the contracts of Gulustan on October 12, 1813 and the contract of Turkmenchay on February 10, 1828.
These contracts helped to continue the sharing of Azerbaijan lands between Iran and Russia. 18 thousands Armenian families were removed from Iran to Azerbaijan, at the same time to Garabagh during the second Russia-Iran war. According to "Turkmenchay" during 2 years (1828-1830) more than 40000 Armenians from Iran and 84000 Armenians from Turkey were removed to South Caucasus. They were placed in the best part of Irevan and Ganja province.
In 1832 the 91 % of the population was Azerbaijanians and 8, 4 % was Armenians. As the result of removing, the number of Azerbaijanians became 64, 8 % and the number of Armenians increase until 34, 8 %.
In 1900-1915 amount of the population of Shusha increased from 25, 6 thousand to 43, 8 thousand and Shusha became the centre of carpet production.
At the end of XIX centure Armenian organization began trying on achieving the lands of Azerbaijan-Garabagh, Nachcivan and Zengezur for creating "Great Armenia". In this direction the first target was to occupy Zengezur and Garabagh.
In 1918 there was created present Armenia Republic in the territory of West Azerbaijan. After this "present" of Azerbaijani leadership Armenian leadership pretended to territory of Garabagh officially.
In the XX century Shusha was encroached by Armenians for 3 times. In 1905-1907 Shusha was attacked and burned by Armenians. In 1920 the most part of the city was destroyed by Armenians. For the third time Armenians occupied the city completely.
Shusha still exists…

The occupation in the direction of Shusha began from Mesheli, Kerkijahan, Malibeyli,Gushchu… and Khojali. Nobody could believe in occupation of Shusha, it was difficult even to imagine it. But it happened and Shusha was occupied by Armenians and Russia on May 8, 1992. This day was shock for Azerbaijan people.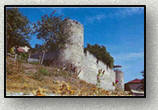 These old and holy lands have already been occupied by Armenian aggressors for 20 years. Our culture and educational institutions- 8 museums, 31 libraries, 17 clubs, 8 culture house, 25 secondary schools, 4 medicines and 241 historical monuments were destroyed. Then valuable wealth of Shusha museums, painting and sculpture works, carpet and carpet products, archeological findings, very useful documents, well-known Azerbaijanian personalities' memory things and other precious materials had been carried to Armenia. At the moment those things are sold in foreign auctions or they are introduced in different exhibitions and museums as Armenians'. There were State Dramatic Theatre, State Garabagh Museum and Historical museums of Shusha, memory museums of U.Hajibeyov, Bulbul, Mir Movsum Nevvab,the branch of Azerbaijan State carpet museum, State painting Gallery, music schools and libraries in Shusha. Very tragic events happened in Shusha in the XX century.
Let's note that, though Shusha is in bondage, most of culture and education centers which were in Shusha at the beginning of the century continue their activity in Baku or other regions.
After the occupation of the city Shusha on May 8, 1992 State Dramatic keeps on working in the Theatre of Young Audience in Baku.
At the moment, more than 15 thousand inhabitants of Shusha are placed in different sanatoria, boarding-house, camp and hostels of Baku.
Formerly, Shusha was consisted of one City Soviet. Now, there is one city representation and 12 village representations and its population were placed in 59 regions of Republic. On the eve of occupation of Shusha the population Shusha was 26 thousand, now it became 25 thousand. At the moment, 16 secondary schools from 25 ones continue their activity in Baku, but 9 ones are placed in different regions of Azerbaijan. District Culture and Tourism Department and 8 Children's Music-Schools, Music Technical Schools, Cultural and Educational technical schools are working in Baku.
There were prepared some training plans in the Executive Power of Baku according to the following orders of the President:
"About accelerating of socio and economic development in the regions of Azerbaijan Republic" on November 24, 2003 and "About confirming of state program on socio and economic development of Azerbaijan regions" on February 11, 2004. Four new farms were created.
A lot of Azerbaijan historical personalities and art-worker grew up in Shusha. So Shusha can never belong to other Nations. Although the enemies occupied Shusha and removed our villages, they can never own our Shusha.
Our national leader, great personality, well-known statesman Heydar Aliyev has fought for liberating our regions without war. Today the President of the Republic Azerbaijan Ilham Aliyev continues this politics regularly. Mr. Ilham Aliyev repeated a lot of times that, until the territorial integrity of Azerbaijan reconstruct, there can't be any agreements.